Triangle Groups
Background
We believe that everyone in our congregations is called to be a full participant in the Church of Jesus Christ. All of us, young and old, male and female, of whatever colour or culture, must work together to help one another grow as disciples of Jesus, tell other people the good news about Him and work with Him to bring his kingdom in fullness.
We believe that it is the role of leaders in our churches to equip every member for their individual ministries in the church and in society, so that all God's people function effectively. Triangle Groups are a key part of how we seek to do this. We therefore encourage everyone in our churches to consider joining a Triangle Group. If you really want to feel a part of the church, being in a Triangle Group is an opportunity not to be missed.
To learn more about a Triangle Group, read on or click on the questions below:
What is a Triangle Group?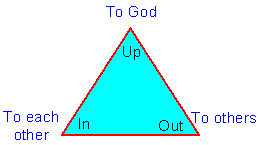 A Triangle Group is a group of Christians (usually no more than 10-12 people) who have a close relationship with each other, much like an extended family. A Triangle Group is more than a weekly meeting. It is a set of relationships focused around the three points of the triangle – Up, In and Out.
There is our common relationship with God (Up)
There are close trusting relationships with each other, as we help and encourage each other to grow as disciples of Jesus and spend time together through the week (In)
There are also relationships with others outside the group as groups are involved in practical service and witness to the wider community (Out)
Each Triangle Group meets weekly, at a time and place which suits the group members.
Just as the cells in a physical body grow and multiply, so when a Triangle Group becomes too large (more than twelve), it multiplies to form a new group. These groups stay connected with each other, just as the cells in a body are all linked together in one organism.
Just as God made living things with the ability to reproduce, so all Triangle Group leaders train new leaders within their group who can lead a new group when their group multiplies.
Our worship in church on a Sunday is when we all come together for celebration, teaching, fellowship and Holy Communion.
The values of our Triangle Groups
There are a number of principles that we consider very important in the life of our Triangle Groups. These are:
All Involved – Every member of the group is a participant, and has a ministry or role. The Holy Spirit is given to all Christians and we encourage everyone to discover the gifts that God has given them and to use them to serve as He calls us.
Becoming Disciples – Every member should be growing as a follower of Jesus. This is normal in the kingdom of God and we look to see people maturing in their Christian lives.
Creating Community – We want to build true Christian community, where each member feels they belong. Our fellowship is with each other and with God: Father, Son and Holy Spirit. Therefore we expect acceptance, honesty, trust and love to characterise our relationships so we can help each other grow as followers of Jesus.
Doing Evangelism – Our groups must look to multiply. This is a natural consequence of new people being added as they discover Jesus for themselves. Everyone is called to witness to their faith to those they already know, and the group seeks to show God's love to other people through their life together.
Encountering God – Jesus is central. He is the focus of our times together, and it is His life that we look to see lived out amongst us.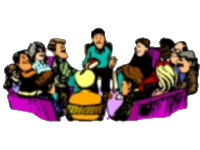 What happens at weekly meetings?
A Triangle Group is a bit like a large family. Like a family gathering, a Triangle Group meeting is flexible and is not always the same. However, it is normally characterised by 4 W's.
Welcome – When we come together, we spend time catching up with each other, sharing our joys and sorrows.
Worship – We love to spend time worshipping the Lord together. We seek to make use of the flexibility and creativity possible in a small gathering, using songs, readings, poems, prayers, meditations etc.
Word – We seek to apply the Bible – the Word of God – to our lives. Usually we think more deeply about the sermon that was preached the previous Sunday. Often the group will take time to pray for individual members as they seek to not just hear, but DO what the Bible teaches.
Witness – We seek to reach out to our friends, neighbours, family and workmates. The group takes time to pray for people who don't yet know Jesus, and to discuss ways of serving and reaching out to them. Every 6 weeks or so the groups aim to do something to witness together.
A fifth W – wandering – also relates to our meetings. The groups aim to meet in different homes each week. Not all members can host meetings, but meeting in different homes helps us get to know each other's families and neighbours.
Who is welcome?
Anyone who is part of our churches is welcome to become a member of one of our Triangle Groups. They are for both young and old alike. A Triangle Group can also be a great place for someone who is not yet a Christian to find out what Christianity is all about and see the difference that Jesus makes to our lives. Members of the groups are therefore welcome to invite their friends and family members who are not yet Christians to Triangle Group meetings. The groups have regular social events, and these may be the most appropriate meeting to bring someone to for the first time. Do make sure that your group leader knows if you or a friend will be attending for the first time.
Joining a Triangle Group
We believe that it is part of God's plan for every Christian to be a part of a fellowship of Christians, and that, if we want to grow as followers of Jesus, we need to be part of a small group with other Christians as well as coming to church on Sunday (following the model of Acts 2:46 ). If you have decided that you want to be a regular participant in a Triangle Group, please speak to one of the clergy or one of the Triangle Group Leaders.
Current groups
Time
Group
Leaders
Tuesdays 2.00 pm
Nechells
Geoff Miller
Ken Costley
Tuesdays 7.00 pm
St James Group
Maureen France
Wednesdays 7.30 pm
Ladies' group
Wendy Martin
Glenys Veitch
Wednesdays 7.30 pm
Witton Group
Paul Lacey
James Hicks
Thursdays 6.00 pm
Youth Cell
Paul Lacey
Thursdays 7.30 pm
Nechells Group
Bill Perry
Joan Perry
Thursdays 7.30 pm
North Birmingham Group
Rosemary Cripps
Nigel Cripps
Fridays 7.30 pm
Friday Group
Hilary Miller and Paul Gale
---