Andy the new Archdeacon of Bradford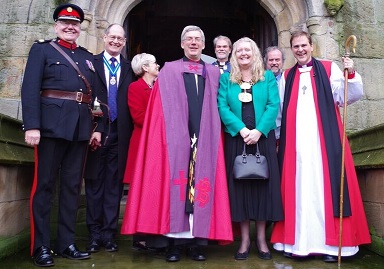 After 13 very happy years in the Parish of Aston & Nechells, and many more in Birmingham, Andy & Ricky Jolley haved now moved on.
Andy has accepted an invitation from the Bishop of Leeds, the Rt Revd Nick Baines, to be the new Archdeacon of Bradford in the new Diocese of West Yorkshire and the Dales. Andy now has a wide range of responsibilities overseeing and supporting the churches of the Bradford Episcopal Area and working with the Area Bishop of Bradford, the Rt. Revd Toby Howarth (who is also a former vicar from Birmingham).
The Bishop of Birmingham, the Rt. Revd David Urquhart, said, "I am delighted at the news of Andy's appointment. West Yorkshire and the Dales is very fortunate to be getting a priest of such calibre and depth to serve on their senior team. Andy's heart for mission, strategic thinking and spirit-filled energy will be much missed here in Birmingham. We send Andy and his family our best wishes and prayers as they prepare for this exciting move."
Andy has now started his new role and Ricky is looking for a new GP practice in the Bradford area. Matt has headed off to America as part of his gap year plans. A leaving event for them was held earlier this.
Andy & Ricky say: "It has been a huge privilege to be part of the parish of Aston and Nechells for the past 13 years, and it will be a wrench to leave Birmingham where we've made some great friends and have enjoyed working with and among some wonderful people. Please pray for us as we settle in a new part of the country we don't yet know that well."
---
This article is closed for further comments.