Alpha Course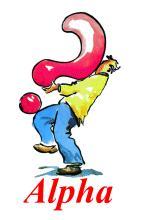 The Alpha course is designed primarily for people who aren't churchgoers and each course is open to everyone who would like to attend. People come to the course for a wide variety of reasons – some want to investigate whether God exists; others are concerned about what happens after death. Some people have particular questions that they would like to discuss; others want to understand other peoples' beliefs or would like to explore what the purpose of life is. Some have never been to church; others may have attended church occasionally but feel they have never really understood the basics of the Christian faith.
Format
The course lasts for 11 weeks, and usually takes place on Tuesday evenings. There is an "Away Day" sometime in the middle of the course. In the Parish of Aston and Nechells we normally run several Alpha courses a year, so usually you won't have long to wait to start a course. The next course starts on 29th September 2015 at 7.30pm at Aston Parish Church (Witton Lane, Aston B6 6QA).
Each session begins with a snack and a drink – a chance to get to know others on the course. There is then a short talk, which looks at a different aspect of the Christian faith each week. This is followed by a time of discussion, where everyone is welcome to contribute their opinion, ask questions and discuss with the rest of the group. The emphasis is upon exploration and discovery in a relaxed and informal environment.
There is no charge for attending the Alpha course.
Course Content
The talks each week cover the following topics, which people are then free to discuss in the small groups afterwards:
Tues 29 Sep – Christianity: boring, untrue, irrelevant? [TASTER]
Tues 6 Oct – Who is Jesus?
Tues 13 Oct – Why did Jesus die?
Tues 20 Oct – How can I be sure of my faith?
Tues 27 Oct – Why and how should I read the Bible?
Tues 3 Nov – Why and how how do I pray?
Sat

TBC

– Alpha Away Day (details to follow)
Tues 10 Nov – How does God guide us?
Tues 17 Nov – How can I resist evil?
Tues 24 Nov – Why and how should I tell others?
Tues 1 Dec – Does God heal today?
Tues 8 Dec – What about the Church?
Tues 15 Dec – Alpha celebration party
The Away Day concentrates on the Holy Spirit
Who is the Holy Spirit?
What does the Holy Spirit do?
How can I be filled with the Holy Spirit?
If you are interested in doing the course, contact Ben Cook
More information about the course, and where else you might find a course, can be found on the Alpha Course website, which you can go to by clicking the following link: Alpha Course website
---