Healing on the Streets
The Healing on the Streets model is a simple, but beautiful way, to reach out to the lost and hurting on our streets. A team from our three churches regularly offers prayer for healing outside Aston Parish Church on Aston Villa match days. In addition to this the team are also available at other community events, such as our summer fun days and the Aston Family Festival. We aim to connect with passers-by, powerfully expressing God's love for them, whatever the weather. We simply invite people to sit on chairs so we can pray for them.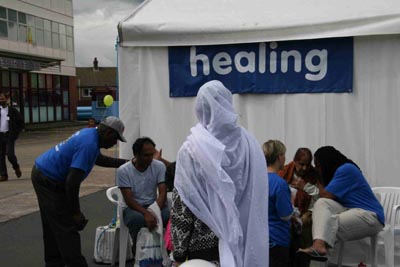 This gentle ministry works within a loving, and compassionate environment, full of the presence and power of the Holy Spirit. It is marked by a true sense of peace. Amongst the hustle and bustle of football fans and families having fun, walks the Prince of Peace.
The team began this ministry in the community in May 2008 after training by Mark Marx of Causeway Coast Vineyard. Since then we have been on an exciting journey with God. We are still learning, but have seen some fantastic healings (for example a leg grown, release from angina and high blood pressure, remission of cancer, phobia overcome). We have also been privileged to pray for many people in time of emotional need (eg following bereavement, facing redundancy and marital difficulties).
We are also networked with other churches in Birmingham who are involved in praying for healing out in their communities. Together we continue to stage further training events so others can get involved in this exciting ministry.
---