Lee Abbey Household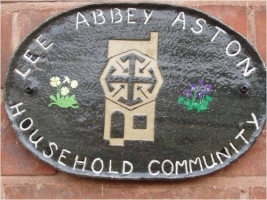 What are we?
The Lee Abbey Christian Community in Aston is a small group of Christians who choose to live together in a house in Albert Road. They are members of different churches and many different interests, but have a shared desire to make Jesus known through their relationships with people in Aston. They host an open evening with food and bible study on the first Tuesday of the month, but visitors are very welcome the rest of the time. They are always interested in people who'd like to join the community, so if joining interests you please follow this link to send Lee Abbey - Aston an email.
The small community here is run in partnership with local churches but is part of the wider Lee Abbey Movement, based in North Devon. To learn more about the Lee Abbey movement around the country, visit the Lee Abbey website and the Lee Abbey Households section for more specific information of their presence in Aston.
The Lee Abbey community in Devon is made up of around 70 Christians who are called by God, for different lengths of time, to the costly adventure of community living. Like the Aston household, they are called to be a worshipping, prophetic community, living out the Gospel and learning to serve each other and those whom God sends to them.
Who can apply?
Anyone! If you have…
Christian commitment
The enthusiasm to serve others
The desire to contribute and help build a life together
If this sounds like you, then joining us can be a very rewarding experience. Depending on how long you wish to spend with the community, you can join as a:
Community member – We encourage all individuals who would like to join, to stay for at least a year to gain the best possible experience of community life. You would join a team and would quickly become involved in all areas of our life together.
Summer helper – You would join us for up to three months between June and September. You would be on one of our teams and play a full role within community.
Summer camp leader – You would join our exciting camp team for two weeks either in July or August. The camps cater for 13 – 25 year olds and offer a whole array of challenges and experience.
---