St Matthew's Church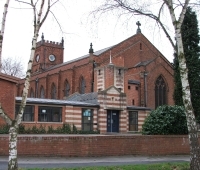 The church of St Matthews Duddeston was built in 1840 in the simple Gothic style. The architect was William Thomas (1799 – 1860). The construction was financed by the Birmingham Church Building Society. When opened it was referred to as St Matthew's in the wilderness because the area was rural but urbanising quickly. St Matthew's was built as a daughter church of Aston Parish Church. However, the "daughter", built to seat 1,300 people, was much bigger than the "mother" and became a parish church in its own right in 1842.
In 1866 galleries were added by J Chatwin that increased the capacity to 1300. A major restoration was undertaken in 1883. A photograph of 1900 shows a tall steeple that has long gone. In 1951 a united benefice was established with St Anne's Duddeston, St Catherine's Nechells, and St Lawrence all churches that had originally been given parish status from the original larger St Matthew's parish. At this time a vicarage and church hall were constructed within the church grounds.
Slum clearances began in the 1930s and were completed in the 1960's. In addition the Great Lister Street shopping area was removed and Great Lister Street replaced by the Nechells Parkway duel carriageway that was constructed to the north of the church. Associated with these changes the area became depopulated and adjacent parishes of St Clements Nechells, and St James the Less Ashted were amalgamated into St Matthews. All of the church buildings associated with these parishes were disposed off except for the redundant site of St James (church bombed) which is a closed graveyard and public open space.
By the late 1980s it was evident that the church building had structural problems and was too large for current requirements. An imaginative scheme costing over £1 million was completed in 1994 that installed office accommodation at the west end of the building with the remaining 50% of the worship area at the East end. The worship area can seat 250 and is an attractive airy space with modern furniture, lighting and fitments, with a gallery, ancillary rooms and kitchen. A new welcoming entrance foyer was built between the Church and Church Hall, creating a new church entrance at the East end of the building. The front part of the church was rededicated for church use in 1994. The original West entrance serves the office accommodation.
---