Press Release: Shakespeare 400 – The Aston Parish Church Connection.
William Shakespeare's family tree has been researched many times and his families' connections to Aston and Castle Bromwich are well documented (Castle Bromwich was in Aston Parish in Shakespeare's day). His great grand parents are buried at Aston Parish Church
"Aston has a unique link to Shakespeare" said Revd Dr Fiona Gregson. " I would encourage all Shakespeare enthusiasts to visit Aston Parish Church during this four hundredth anniversary year. The church is open from 10am on Sundays before the morning service starts at 10.45am. Another option for visiting the church is the Aston Heritage day on 9th July 2016."
William Shakespeare's mother's family the Arden's were big local land owners from the 14th to 17th centuries. Their residence Park Hall was in the Parish and the family has left 3 memorials and there is a stained glass window in Aston Parish Church. Details are on www.astonnechellscofe.org.uk/gallery.
"Why battle the crowds in Stratford?" asks Nigel Cripps of Aston Parish Church, "there are much more accessible Shakespeare's family memorials neared to home in Aston Parish Church".
There will be a Shakespeare event at Aston Hall on 16th April.
---
Press Release: Birmingham Community Gospel Choir Concert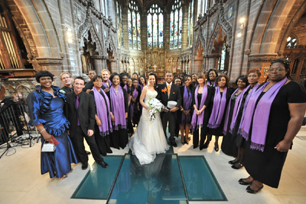 Hear the fabulous Birmingham Community Gospel Choir (Finalist BBC 2013 Gospel Choir of the Year competition) at Aston Parish Church at 7 30 pm on Saturday 20th July.
The church is at the corner of Aston Hall Road and Witton Lane, with free parking
This popular gospel choir will be singing original and popular songs, including 'Love can build a bridge',(The Judd's), 'Hosanna', (Kirk Franklin) and 'One Love' (Bob Marley).
Tickets £5 – children under 5 free
In aid of the Aston Parish Church stop the leaks appeal
---
PRESS RELEASE: CAN DO 4:13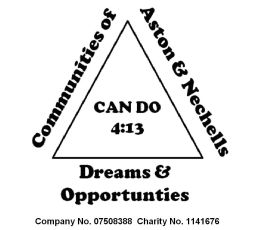 Rushed off their feet
A recent national analysis shows that the ecclesiastical parish of Aston and Nechells is 93rd out of the 12,707 Church of England Parishes, that is amongst the 1% most deprived in the country.
The CAN DO 4:13 Charity that meets the needs of the poorest in Aston and Nechells has had a very busy year. The St James Aston Advice centre dealt with over 2000 cases, well over half needed advice on welfare benefits while there has been a decline in requests for help with immigration matters.
Throughout the year there has been a month on month increase in overall numbers seeking advice. Further increases are expected as welfare reforms are implemented in the coming months.
"We have an interesting situation with the advice centre"; said Nigel Cripps, charity secretary "demand is increasing but finance is dwindling. This service has traditionally been funded by grants from the Government sector and so far we have not managed to find others to bridge the funding gap".
The Aston and Nechells Foodbank is the other arm of the organisation which recently completed its first full year of operation. The Foodbank has over 60 partners who refer people who need emergency food parcels. We have found that a surprising number of people in crisis have been placed there by late payment of benefits by statutory organisations.
In the first year 543 food vouchers were issued; 1,308 individuals have received food, 567 of them children. The number receiving food vouchers is increasing all the time. The two distribution points (The Salvation Army in Aston and St Matthews church in Nechells) are increasing volunteer staffing to cope.
The Foodbank currently relies entirely on volunteers and individual donations.
Behind the success is the generosity of the public who respond to requests for food donations. In the past year 14½ tonnes of food have been donated by 23 churches, 2 uniformed groups, 11 Schools, 5 Community Groups and a company all of whom regularly collect food. The other major contributors are the customers of Tesco in Witton Lane who each month respond to our request to purchase and donate specific food items.
Money is also needed to purchase food that has not been donated but is needed to meet the requirement to provide nutritionally balanced food parcels.
Foodbank volunteers come mostly from the local community. Running this enterprise gives a first class opportunity to the young unemployed who gain skills that are transferable into paid employment.
Heather Buckingham a community director of CAN DO said, 'The success of the foodbank is a great credit to the 30 active volunteers and the public who donate food. Without this help those in crisis would have gone without food'.
—————————————————————————————————
Further information and arrangements for photo opportunities contact Nigel Cripps 0121 382 9263
Website – press the CAN DO button on www.astonnechellscofe.org.uk
CAN DO 4:13 CAN DO = Community of Aston and Nechells Dreams and Opportunities. The organisation is a charitable company that has been set up by the churches in Aston and Nechells
---
Press Release: A Generous Response to Repeated Easter Disruption
Aston Parish Church, in the shadow of the Villa Park ground in Aston, is holding a 'generous protest' against the organisers of the football match being held at Villa Park on Easter Sunday lunchtime. This is not the first of its kind and local vicar, Revd Andy Jolley says, "enough is enough."
"There are very few moments in the year that remain special days for families and Easter Sunday is one of them. By scheduling a game to be played at this time, BSkyB and the Premier League are forcing hundreds of workers to forsake this precious time with their families and thousands of fans will be spending their day travelling to and from the ground. The local community will also find it impossible to enjoy a quiet day at home. On top of this, members of churches in Aston will have to battle through crowds of football supporters to celebrate the most important date in the Christian calendar at their churches. This has been going on for nearly 15 years and enough is enough."
Ignoring requests of local churches and residents, and the preferences of many people, the match between Aston Villa and Liverpool will be taking place this Sunday at 1.30 pm and will be, once again, causing havoc and upset for workers, fans and local people.
When the churches were first made aware of the Easter Sunday fixture in January a meeting was held with representatives of Aston Villa and the police to try and mitigate the problems. An offer was made to change the time of the kick off to 2pm but, as local roads close an hour before the match, this would create worse problems for church attenders going home after church. Revd Andy Jolley wrote letters to BSkyB and the Premier League on behalf of local churches outlining the issues and although he received a sympathetic but unobliging reply from the Premier League he has never heard back from BSkyB.
Revd Jolley said, "There have been ample opportunities to review and reschedule this match and keep Easter special. Also, Sky's planned televised fixture for 4pm on Sunday has recently been rescheduled to Monday giving an opportunity for Villa's match to be moved later in the day and cause less disruption to the Easter services. But, as BSkyB haven't even had the courtesy to acknowledge our concerns, we are left in the dark as to why this hasn't happened."
Recognising that this is not the fault of fans or workers affected by the match, Aston Parish Church will be holding a generous protest:
"We are inviting Villa and Liverpool supporters who want to celebrate Easter as well as go to the match to join with us for worship at the church. We're looking forward too to sharing hot cross buns and Easter eggs with fans, workers in burger vans, police and car-park attendants. We'll also be acting out some scenes from a contemporary 'passion play'. Our message is that, despite Sky's best efforts, Easter in Aston will not be cancelled!"
With three in the last eight years, it is felt that the community and churches of Aston have suffered disproportionately from Easter Sunday matches, a relatively recent innovation brought in by BSkyB. Matches in Europe are scheduled to kick-off at 4pm or later.
The last protest took place in 2009 when, after correspondence with the Premier League and Setanta, an appropriate kick-off time could not be fixed. Church members gave out hot cross buns to fans, took Easter eggs to the police, and performed an open-air presentation about Easter. When petitioned, the overwhelming response from fans and staff alike was that they didn't want the match to be on Easter Sunday. It seemed the only people who did were the TV companies.
Protests began back in 1999 with the then vicar, Revd Keith Sinclair, ringing the church bells for the duration of a match held on Good Friday. Then again in 2006 with West Brom and Birmingham City on Palm Sunday and Easter Sunday, the noon kick off making it nearly impossible for local people to attend church. Many supporters walking past Aston Parish Church on their way to the Villa ground signed a petition agreeing that it was inappropriate to hold a match on Easter Sunday.
---
PRESS RELEASE: Richard III Aston connection
Nigel Cripps of Aston Parish Church said, 'There more be more supporters of Richard lll under the floor of Aston Parish than there are under the floor of Leicester Cathedral where they plan to be finally lay him to rest'.
The publicity around the discovery of the skeleton of King Richard lll who died over 500 years ago and the War of the Roses may seem a long time ago but in Aston there are reminders in stone of those troubled times.
Aston Parish Church has over three fine memorials that are testimony to this troubled episode in English History
The Arden memorial – The lady sharing the tomb top with Sir Ralph Arden (a relative of William Shakespeare) is Elizabeth Clodshale (born at Saltley), her husband was Robert Arden who was executed in 1452 for organising troops against King Henry Vl at the beginning of the last phase War of the Roses.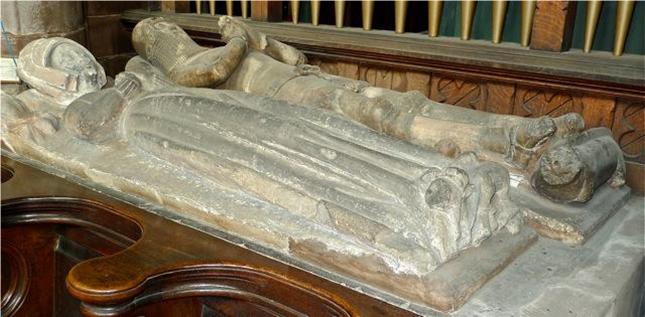 The Erdington memorial – Sir Thomas de Erdington wears a Lancastrian collar presented to them by King Henry V. Sir Thomas's collar is damaged, the insignia is said to have been removed by his son when the house of York came to power because by marriage he was a Lancastrian and was in danger.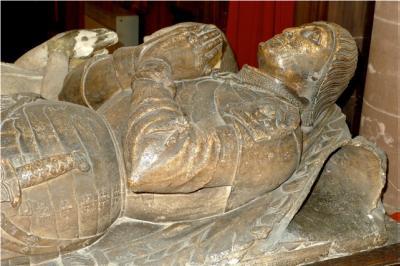 The Harcourt memorial – A fine memorial in full English armour (very rare) was completed in 1465, and stored for 17 years before being installed in Aston Parish church when William Harcourt died in 1482. Sir William is the nephew of the lady on the Erdington tomb. Sir William is wearing a collar of sons and roses that was given to supporters of the Yorkist King Edward lV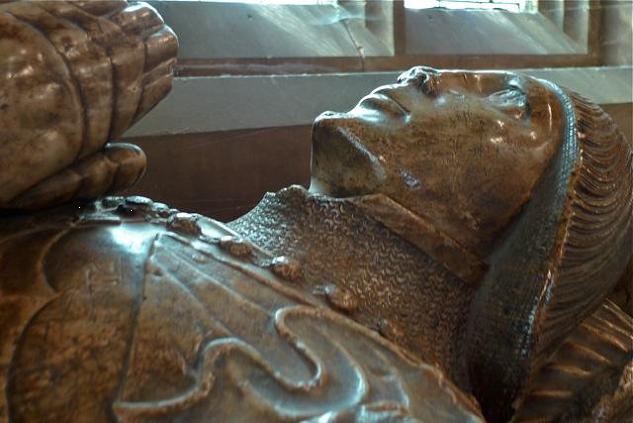 Richard lll was killed at Market Bosworth and there is a copy of the Harcourt memorial in the Battle Field visitor centre. There is another copy in the Royal Armouries in Leeds
Nigel Cripps of Aston Parish Church has asked, 'Should Richard lll be buried in Aston? If he was he would be surrounded by his supporters'.
For more information contact Nigel Cripps [0121 382 9263]
---